Show me a picture of a UFO. Is that the question you ask? You have come to the right place! I am amateur photographer with an archive of over 7000 photos of clouds, cloud systems, contrails/chemtrails, and other weather-related phenomena. And in some of these photos, unidentified flying objects (UFOs) or the so-called unidentified aerial phenomenon (UAP) showed up.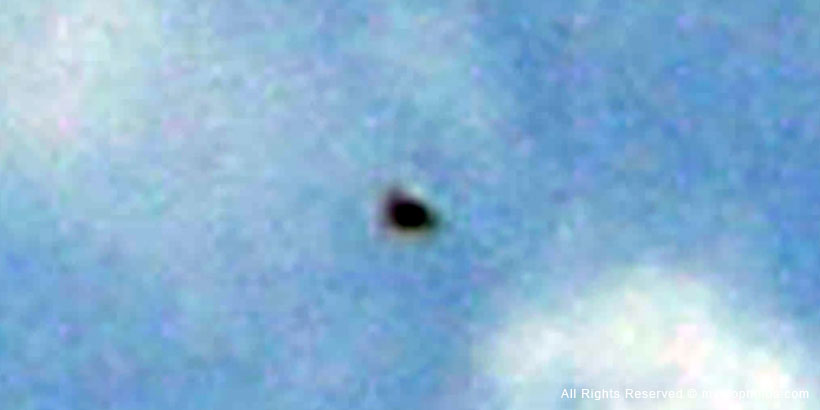 The picture above was taken in relation to an apparent F16 dogfight with unknown counterpart over my city on July 6th 2010. I had the camera with me when I heard the roar of a jet fighter above me. I began taking pictures and up to 15+ different objects including something that looks like an F16 Viper posed in the photos. See the related F16 jet fighter UAP gallery
I show you my best UFO photos
I started taking these sky pictures in 2009 and since then 10+ UAP cases have been collected. So when you ask the question Show me a picture of a UFO, I feel I rightfully am in the right place to respond with an article showing my best UFO photos.
The pictures below have not been taken in an intentional hunt after alien ET vehicles in the sky. The pictures were taken because I was bothered by the visual pollution in our skies caused by air traffic. A beautiful deep blue sky could be destroyed in few hours by aircraft contrails. This blackout the Sun and stops the production of vitamin D3 for the body. My concern later evolved to also include photos of clouds and other weather phenomena.
Show me a picture of a UFO (cigar shaped object)
My camera was usually always pointed to the sky, also on October 9th 2009 where I spotted a Sun halo. I took 8 photos right after each other, and in one picture an elongated UAP appeared inside the solar halo. It is an amazing photography with the cigar-shaped object and a commercial airliner together with the Sun halo as background. It´s a magnificent sight.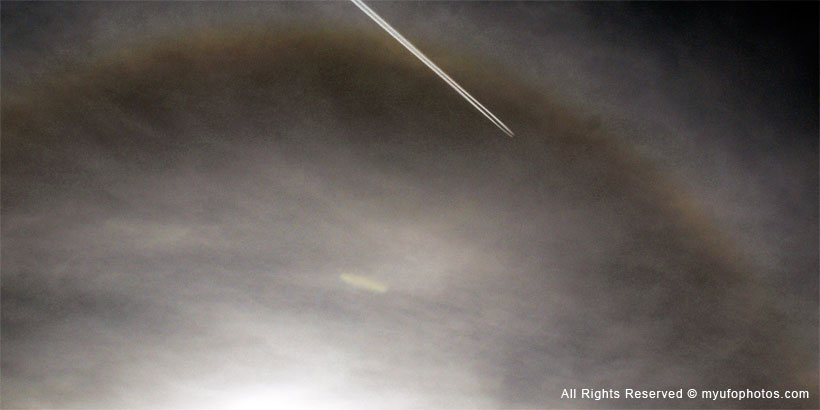 It was only visible in one picture and had 2 seconds to pass the sky! So it´s not a balloon. I checked if it was a solar lens flare but it seems not to be just a reflection of light. It is not transparent. It seems to be a fuzzy metallic object. At first glance, it looks cigar shaped, but when you look closer it is more in the shape of a pressure tank. Read more here
Internet request "show me a picture of a UFO" (cigar-shaped object) has been answered…
Show me a picture of a UFO (flying saucer)
In relation to my very first sighting back in 1981, which involved the landing of an unknown craft and face to face alien contact. I took off to visit the suspected landing site on August 9th 2013 with all my camera equipment. My intent was to document the area and take pictures of everything that seemed strange. An object appeared in the sky right above me.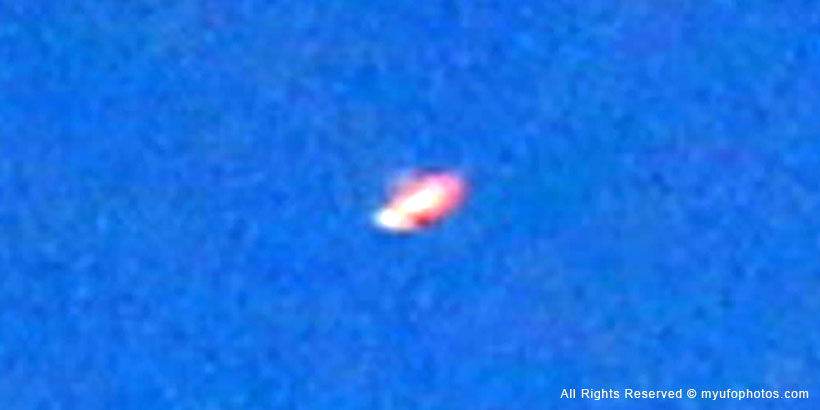 This event with a flying saucer above was really strange. I was there to photograph strange things and then this orange glowing object appeared above me, I immediately assumed it to be a plane. I took some "archive" photos of the object without zooming in, unfortunately. Then the object made a turn no airliner can do in flight, I was still inattentive for some unknown reason? Maybe I was under thought control of some sort? But I got the pictures! Read more here
Internet request "show me a picture of a UFO" (flying saucer) has been answered…
Show me an image of a UFO (shape shifting object)
On April 12th 2010 I was hanging out my window taking pictures of some contrails and there was something flying in the camera direction. I assumed it to be a small Cessna type airplane. Later I found it in my pictures, magnified it and saw a shape-shifting UAP that behaved very strange over 5 pictures. On each picture, the UAP has e new shape? It consists of a white fuzzy "body" surrounded by two dark objects that seem to move around the white body in the middle.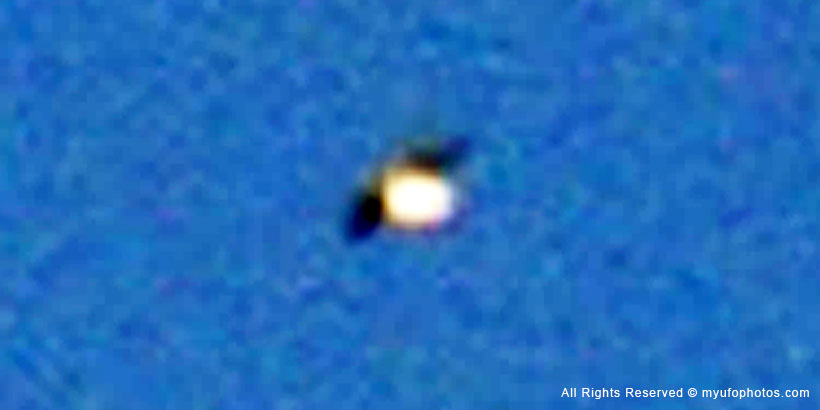 I am not always seeing them when I take the photos. This time I saw it live but assumed it to be a plane. It is out in the distance and I could not see it clearly from my position. But I saw some light-shadow relations on the object while it flew in front of me. This is one of the strange ones in my collection that is difficult to describe. Its shape is undefined. Read more here
Internet request "show me a picture of a UFO" (shapeshifting object) has been answered…
Show me a photo of a UFO (sphere with black windows and companion)
The next one is amazing. I did not see the UAP while taking the 173 photos in relation to a live sighting the day before. Then I came home and looked through the photos I found these two unidentified flying objects in the sky. Notice that the white sphere has a black band across. I suspect this to be darkened windows protecting the crew against sunlight in space I suppose.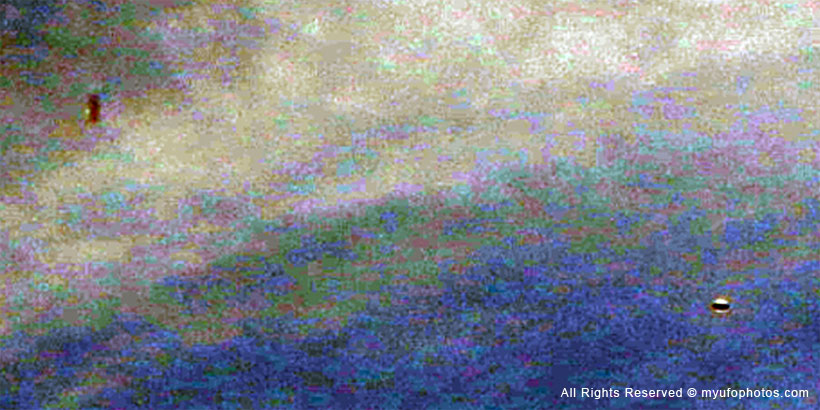 They were not alone in the sky and several other UAP objects was caught on photo that day. The sighting I had the day before had caused me to take 173 photos with the UAP in some of them. You can see more in the UAP photo sighting gallery here
Internet request "show me a picture of a UFO" (sphere with black windows and companion) has been answered…
See the complete collection of pictures with unidentified flying objects here
Sky photography archive
The sky photography archive I started building in 2009 mainly consists of pictures with cloud systems and aviation contrails. You can see some of those on flickr. The clouds are here and the contrails are here
I still take photos of the sky, DSLR photography, when the weather becomes interesting. I use my Sony A-100 reflex camera with a standard 18-75mm zoom lens for the weather photos in general. If I see something strange up in the sky or in the clouds I use my Canon EOS 60D with 300mm zoom lens to investigate. As a precaution, I shoot a series of pictures even if I do not see anything…
Camera resolutions
A picture taken with Sony A-100 is 3872 x 2592 pixels (12 Mega Pixels). A picture taken with Canon EOS 60D is 5184 x 3456 pixels (18 Mega Pixels). This is when both DSLR cameras are set to maximum resolutions! Image format is JPEG. I love my EOS 60D with the 300mm zoom lens because I can see objects that are very far away. See the last picture I took with EOS 60D here
Other articles contributing to Danish ufology
Danish ufology has for many years been pretty dry with authentic UFO photos. Even today where most people can afford a DSLR camera, a smartphone or other still/live recording equipment, Danish UFOs on still photography seems very limited. I am the only independent blogger in Denmark writing actively about unidentified flying objects in my photography. Read more…
Go back to category or homepage Real UFO pictures