Smiley UFO with scout fleet was a group of unidentified flying objects captured on photo in Denmark on September 19, 2018. They were photographed high in the sky west south-west of Odense city at 3.25 pm local time. I did not see them while taking the so-called "archive" photos of clouds in the sky. But two days later I discovered the smiley in one of my photos.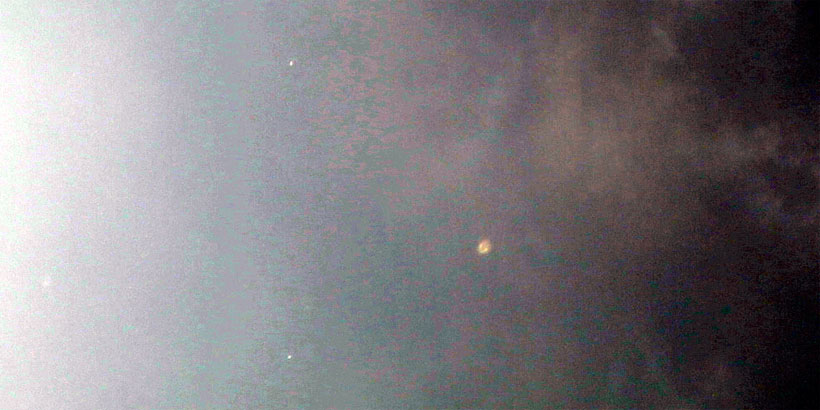 I used a Canon EOS 60D with a 300mm zoom lens producing JPEG images in the resolution of 5184 x 3456 pixels (18 Mega Pixels). A smaller resolution would have rendered the objects more unclear. But I captured them with only 190mm focal length and the largest object reveals a strange little surprise.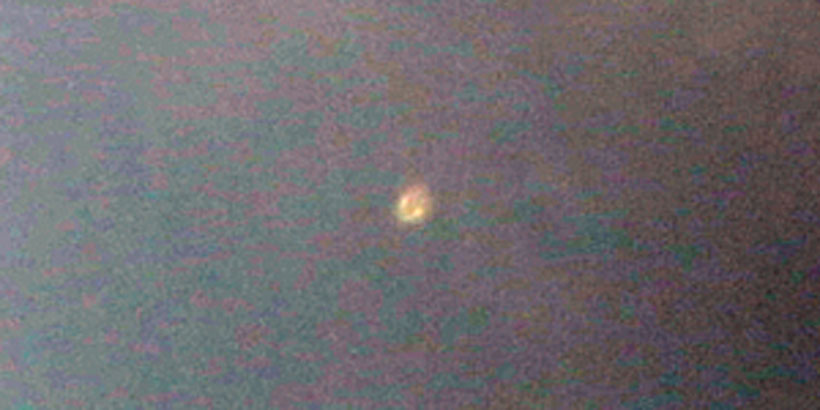 It´s a smiley 🙂 with a big smile 🙂 big surprise! I can further describe this object as a light grey spherical cloud-like object with a horseshoe-shaped glowing white light on it.
Smiley UFO is luminous white
The two pictures above have been filtered with Auto Tone in Adobe Photoshop to make the smiley UFO more clear for the viewer. But in that process, the large object got a yellow-orange glow which is not the real color. In the original cropped and zoomed version below, it is luminous white. It is nearly invisible in the sunlight that is coming from the bottom left in the photo. The image below has been processed in Adobe Photoshop with brightness and contrast adjusted.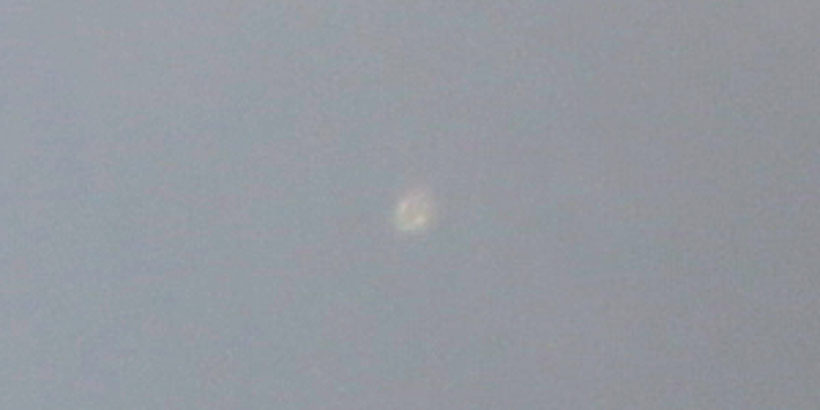 My first thought when I saw this thing was "lens flare". But I have never seen a lens flare with that look (on its face) and I have seen many. The object also comes with a small fleet of luminous orb-like objects? It is not a lens flare if you ask me. Maybe something extraterrestrial like space aliens? I will probably never find out…
Nice surprise, smiley UFO photo archived 🙂
Original full resolution photo
Basic sighting data
Denmark, Odense, September 19th 2018 at 3.25 PM
Camera position: 55 24'16.82″ N – 10 22'18.93″ E
Canon EOS 60D DSLR with Canon f/4-5.6 / 70-300mm zoom lens
Compass direction: West 50-60 degrees up
Go back to category or homepage Real UFO pictures