Cirrocumulus clouds in a spectacular display (photo gallery) on a deep blue sky above Denmark on September 1, 2009. Weather system materialized condensed water vapor in many different shapes and configurations. I took several photos starting at 3.06 PM local time in Odense city. See the best Cirrocumulus clouds photos in the photo gallery further down.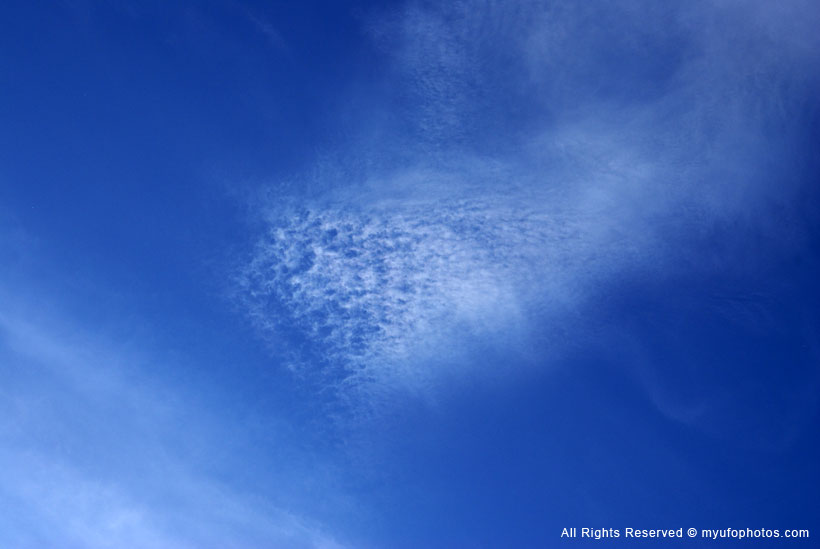 It´s awesome to see such amazing weather manifest. It´s like to see live chemical reaction mid-air. How does condensed vapor of water form like this? One should think there was a vibration, a frequency or wave, that causes these patterns in the sky.
Spectacular Cirrocumulus clouds photo gallery
The cirrocumulus clouds photo gallery below shows some of the pictures taken. It was a very active weather that day, many fast-changing clouds. I used a Sony DSLR A-100 reflex camera with standard 18-75mm zoom lens attached.
I'm not a weather expert or meteorologist but I strongly suppose these are cirrocumulus clouds (cloud types). I also base it on pictures of different cloud types from an old book titled Nautical Meteorology written in Danish by P. Iversen (Copenhagen 1970).
See the weather history for Denmark (Vojens-Skrydstrup Air Base) on September 1, 2009
Camera used: Sony A-100 DSLR with a standard 18-75mm zoom lens
Related reading
Or go back to category Meteorology or homepage Real UFO pictures