Sylph contrail-cloud captured on photography in Denmark on April 7, 2010, at 7.52 pm local time in Odense city. Is this just another Sylph cloud that has transformed from an ordinary contrail? It is directly connected to a contrail in the below photo.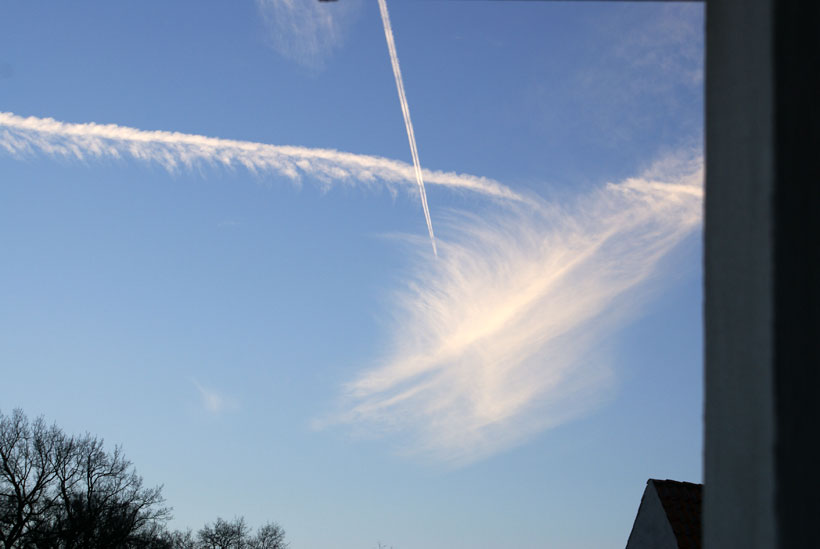 In relation to contrails, I think Sylph clouds are created because of a unique weather process. Well, I am no weather expert or meteorologist, but have a couple of these sylph contrail-clouds in my photos check out the Sylph-TAG
On the other side of the house, it is revealed that the sylph contrail-cloud are connected to another weather system. It looks like there are Cirrus traits in this cloud system but it could also be an old contrail leftover from aircraft. The contrail that you can see starting far left in the first photo above is also visible in the photo just above this text.
Sylph-like contrail-cloud captured on photography photo gallery
Sylph clouds tend to appear in the sky when there is also contrails present.
Additional information
See the weather history for Denmark (Vojens-Skrydstrup Air Base) on April 7, 2010
Camera used: Sony A-100 DSLR with a standard 18-75mm zoom lens
Related reading
Go back to category Contrails or homepage Real UFO pictures